Experience the "you" you always wanted to be ...
Your look is an extension of your personality, attitude and lifestyle. A great cut, style or color can make you feel completely reinvigorated and bring out your individuality and natural beauty.
Our team of hair artists bring your personal style to life through the latest styles, techniques and services. But before we do that, we first get to know you better through a comprehensive and complimentary consultation. We'll talk about your everyday life, hair hopes and needs, and what influences your style.
This 15-minute visit allows our hair artists to tailor your services and create a look that complements your face shape and coloring, hair texture, hair length and density, and lifestyle. It's also an opportunity to discuss pricing estimates and what to expect during your appointment.
The most beautiful thing a person can wear is confidence. Beauty begins the moment you decide to be yourself.
Explore our offerings menu and contact us to schedule a consultation. Please note the pricing listed below is a starting point and may vary based on hair length, thickness and the time needed to complete your service.
All hair services include POZA's signature shampoo, head massage and blowout. We are offering silent Haircuts!
Women's Cut
Certified Hairstylist - $60-$80+
Owner's Price - $150
Men's Cut
Certified Hairstylist - $35-$50+
Owner's Price - $85+
Gender Non-conforming Cut
30 Minute Haircut
Certified Hairstylist - $35 -$50+
Owner's Price - $80
60 Minutes Haircut
Certified Hairstylist - $60 to $80+
Owner's Price - $150+
Kids Cut (for children under 8; shampoo and blowout service not included
Certified Hairstylist - $35-$50
Bang Trim
Complimentary for existing clients
New Clients: $15
Clean Up
*existing clients only
Specialty Styles & Treatments
Blowout & Style - $45+
Simple Updo - $85+
45 minutes of styling time. Updos work best on hair that's washed the day before.
Intricate Updo - $100+
60 minutes or more of styling time. Updos work best on hair that is washed the day before.
Bridal Updo - Price upon consult
Braid Style Session - $25
Keratin Straightening Treatment
We believe healthy hair is beautiful hair, which is why we don't offer permanent wave treatments or chemical relaxers. Our GK keratin service improves manageability, shine and texture, while still maintaining hair integrity.
Short Hair Straightener - $200
Medium Hair Straightener - $300
Long Hair Straightener - $400
Glam Seamless Hair Extensions
Want thicker, longer and healthier looking hair after just one sitting? We offer Glam Seamless, the highest quality luxury extensions available and the go-to brand for achieving dream hair.
Glam Seamless uses the most cutting-edge techniques and extensions made from remy hair, 100-percent real human hair with the cuticle still intact, to guarantee a natural blended effect every time.
Our hair extensions services are customized for each client, including the method we use (tape-in, hand tied or braidless sew-in) and the length, texture, color and thickness of the extensions.
POZA Salon offers installation, removal, reinstallation, bump-up and maintenance care. Pricing available upon consult.
Threading

(Facial Hair Removal)
Eyebrow Threading - $30
Chin Threading - $15
Upper Lip Threading - $30
Whole Face Threading - $55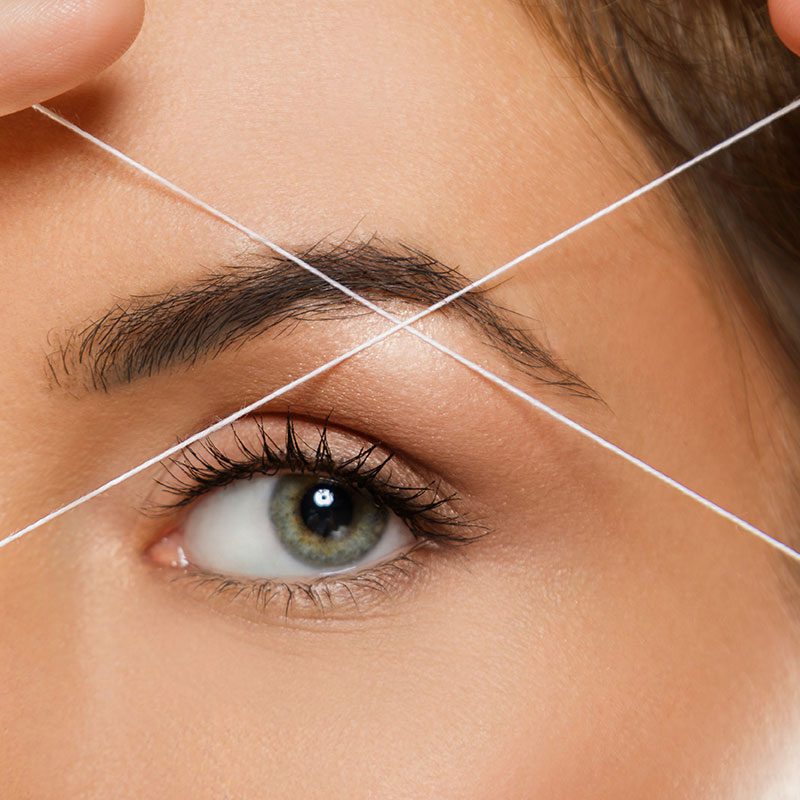 Transform your salon visit into a VIP experience with these luxurious additional services and treatments.
10-minute head massage with tea tree steam therapy - $15
KEVIN.MURPHY elixir treatment - $30
Wellaplex treatment - $60
Masks - $20
Choose from young again, intense hydrating, intense color or intense repair.
Ultimate scalp and hair therapy - $35
Deep conditioning treatment - $15
Thermal finishing - $25